Homes for Sale in Trace Crossings Hoover AL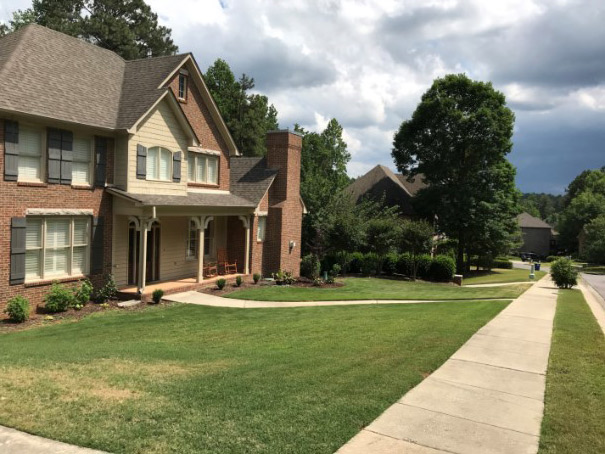 Find the best homes for sale in Trace Crossings Hoover AL. Trace Crossings is conveniently located in Hoover, AL off I-459 at Exit 10 just minutes from downtown Birmingham in Southern Jefferson County and Northern Shelby County. After taking exit 10, turn left onto Hwy 150.
At the intersection turn right onto Stadium Trace Parkway. The first of seven Trace Crossings neighborhoods will be on your right, Park Trace. At the light, turn right onto Brock's Gap and at the top of the hill you will see Chestnut Trace on the left and Northridge on your right. As you roll down the hill, past the lake, you will come to Scout Creek on the right. Within Scout Creek is one street known as Villa Trace.
Further down Brock's Gap, is Lake Trace, a gated community on the water. And the last Trace Crossing's neighborhood is Creekside, which is comprised of garden homes. Willow Trace is off of Hwy 150, just passed Hunter Street Baptist Church. The Trace Crossings neighborhood is minutes from the Riverchase Galleria, Patton Creek, Publix and the Hoover Sports Complex. Hoover High School and Trace Crossings Elementary School are located within the community.
Summers are warm with high temperatures running 91 degrees on average with an average low of 72 degrees. During winter months the low is typically 36 degrees and the high is around 56 degrees. Due to all the rain, the Trace Crossings neighborhoods are very plush in green with lots of vegetation.
Lifestyle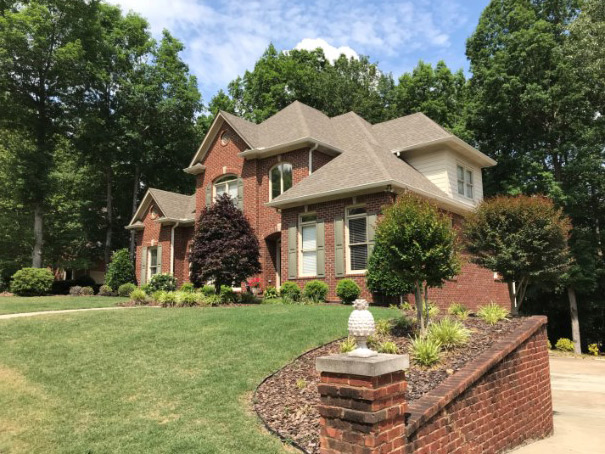 Trace Crossings is just down the street from the Hoover Metropolitan Sports Center with baseball and soccer fields and the tennis courts and splashpad and a park to come soon. Restaurants and shopping are minutes away and new developments are under construction now including a coffee shop, an ice cream parlor and retail shops.
The Riverchase Galleria, one of the largest shopping malls east of the Mississippi River is located minutes away. Nearby is Jim n Nicks bar-b-que, a favorite of locals with its savory flavors and laid-back atmosphere. Be sure to grab a piece of their famous pie. And Tazikis, a family-owned restaurant provides lots of healthy options and is close by. And of course, you will find the all-time favorite, Chick-fil-A fast food restaurant just down the street. Enjoy the outdoors at the Moss Rock Preserve just minutes away with its beautiful 349- acre nature preserve abundant with forest systems, large rock outcroppings, streams, waterfalls, wildlife, and other unique natural features.
Schools
Trace Crossings is zoned for the award-winning Hoover School system with all the schools located within 2 miles of the neighborhood. Hoover High School has a dynamic campus and serves a student population of approximately 2,950 students. With personalized, differentiated learning, numerous academy programs, an International Baccalaureate Program, and a low student-teacher ratio, the school operates as and has the feel of a much smaller campus. Of note, Hoover HS exists as one of only 136 high schools in the US offering the AP Capstone Diploma, in addition to the Alabama high school diploma. Hoover High School is located at 1000 Buccaneer Drive, Hoover, AL 35244.
Bumpus Middle School is made up of 6th through 8th grade and is located within minutes of all the Trace Crossings neighborhoods at 6055 Fleming Parkway. Brock's Gap Intermediate School is composed of 400 third through fifth grade students and near Trace Crossings on 1730 Lake Cyrus Club Drive, down Hwy 150.
Trace Crossings Elementary School is an environment that is student centered. The staff is dedicated to providing students with opportunities that foster lifelong learning by teaching skills, knowledge and behaviors students will need as responsible citizens in the global community. Classes are self-contained with a student-staff ratio of approximately 18 to 1 in kindergarten and first grade, and 20 to 1 in second grade. Trace Crossings is the official site for Hoover City Schools' Pre-School program. The school is located at 5454 Learning Lane, Hoover, AL 35244.
Homes
Willow Trace at Trace Crossings was the first Trace Crossings neighborhood and most of the homes were built in the 1990's. Located just off Hwy 150 in Hoover, Willow Trace has lots of mature shade trees, gentle hills and winding streets. This neighborhood has a trail that leads to Hoover High School. Willow Trace residents enjoy their own swimming pool as well. The homes are build are larger than usual lots and are mostly 4-side brick with back decks are typically priced over $400,000. Park Trace at Trace Crossings is located just off Stadium Trace Parkway in Hoover and is a very family friendly neighborhood.
Residents enjoy a windy walking path than goes from end to end of the neighborhood. One of the benefits of Park Trace is that it is walking distance to Trace Crossings Elementary School. Families enjoy a private pool and tennis courts. Home prices typically run upward of $300,000. Scout Trace at Trace Crossings features beautiful lakes and hills that add to the different architectural styles of the homes. These 4-side brick, executive homes are stately and charming at the same time. Resident enjoy a private pool and park.
Chestnut Trace at Trace Crossings is a gated community comprised of one long street of homes located on the ridge of the mountain. Homes on one side enjoy a view of the lake and homes on the other side have a view of the valley which includes the Hoover Met. During many of the Hoover Met events, residents enjoy their own fireworks display. All the homes in Chestnut Trace have main level garages and are full brick. Neighbors living here enjoy the convenience of having all their yard work cared for. Many of the homes also have full size basements providing ample space for all your family needs.
Northridge at Trace Crossings is one of the newer communities and is located across the mountain ridge from Chestnut Trace. These homes have zero lot lines and feature creative ideas like sliding barn doors. The homes all have private backyards. All of these homes feature bedrooms upstairs as well as main level master bedrooms. Lake Trace at Trace Crossings is another gated community and is built around a beautiful lake. These executive homes were all custom built and have many unique features. These lovely homes typically sell for $500,000 plus and have full basements and 2-car garages on the main level and 2-car garages in the basement.
Villa Trace at Trace Crossings is comprised of one street of European style homes built on slabs with main level parking. These homes have minimal size lots allowing freedom of yard work. These homes feature main level master bedrooms and are typically 4-sides brick. They have smaller yards with total privacy. Some of the homes have a great view off the ledge. Creekside at Trace Crossings is a community of garden style homes built on slabs. Each of these homes has main level parking and a main level master bedroom. The yard sizes are very manageable.
Creekside is divided by a creek with one side of the neighborhood located in Jefferson County and the other side of the neighborhood in Shelby County, while still being zoned for Hoover Schools. Sidewalks, green spaces, lakes, walking trails and parks all make Trace Crossings a favorite for families.