Homes for Sale in Ross Bridge Hoover AL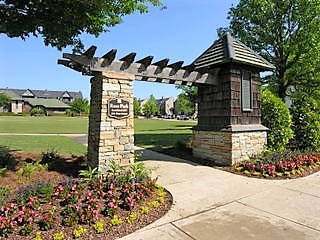 Find the best home for sale in Ross Bridge Hoover AL.Ross Bridge, one of Hoover, AL's, newer neighborhoods was awarded the 2007 "Best All-Around Community" for its beautifully executed master plan which creating a "small town feel." Sandwiched between Lakeshore Parkway and Hwy 150,in Jefferson County, Ross Bridge is convenient to downtown, shopping and schools. Minutes from I-65 and I-459, people working in downtown Birmingham are just 30 minutes away. The community is located within zip code 35226. Summers are warm with high temperatures running 91 degrees on average with an average low of 72 degrees. During winter months the low is typically 36 degrees and the high is around 56 degrees.
Lifestyle
With over 200-acres of natural parks, green space and lakes, there is plenty of nature for your family enjoyment. The resort property contains over five miles of activity trails for hikers, cyclists, bird watchers and nature enthusiasts.
The free-flowing paths interconnect the large expanses of fresh lawns, shaded hideaways, playgrounds and aquatic centers. Many of the neighborhoods have resort like pools with baby pools. One pool even has a zero-entry and splash zone. Resident of Ross Bridge have access to all the pools. Located in the heart of Ross Bridge is the Renaissance Hotel Golf Course and Spa Resort. Better known as "The Castle" the resort is surrounding by the plush golf course and miles of beautiful rolling hills and trees.
In the evenings the peaceful sound of a bagpipe can be heard as the bagpipe player strolls around the property playing. During the summer months local farmers bring fresh produce to the neighborhood and set up a Friday afternoon market. Food trucks park in the front of the neighborhood on Friday nights providing a convenient stop for working families to pick up dinner. Summer also means time for family movies in the park. Each and every season there is some sort of family event whether it's the Christmas Decorated Golf Cart Parade or the annual Easter egg hunt.
Schools
Ross Bridge is located in the Hoover School system with elementary age children attending Deer Valley Elementary School; middle school is Robert Bumpus; intermediate school is Brocks Gap and the high school is Hoover High School. Deer Valley Elementary School located at 4990 Ross Bridge Parkway serves students K-5th grade and has about 850 students. This school is located just down the street from the beautiful community of Ross Bridge and Deer Valley at 4990 Ross Bridge Parkway, Hoover, AL.
Bumpus Middle School serves 812 students and is located near Hoover High School off Stadium Trace Parkway in the neighborhood of Trace Crossings at 6055 Fleming Parkway, Hoover, AL. Brock's Gap Intermediate School is composed of 400 3rd through 5th grade students. It is located down Hwy 150 at 1730 Lake Cyrus Club Drive, Hoover, AL. Hoover High School serves the students of Ross Bridge and it has a dynamic campus with a student population of approximately 2,950 in grades 9-12.. It is located off Hwy 150 down Stadium Trace Parkway, near the Hoover Metropolitan Sports Facilities.
With personalized, differentiated learning, numerous academy programs, an International Baccalaureate Program, and a low student-teacher ratio, the school operates as and has the feel of a much smaller campus. Of note, Hoover HS exists as one of only 136 high schools in the US offering the AP Capstone Diploma, in addition to the Alabama high school diploma. Hoover High School is located at 1000 Buccaneer Drive, Hoover, AL.
Homes
Ross Bridge is made up of many unique neighborhoods with different home styles and price points for all. The communities are Ross Bridge Community Center, Greenside, Grand Avenue, Chalybe, Abbeyglen, Freestone Ridge, Butler Springs, Bellevue, Gasscott, Haddon, Sawyer Trail, The Hamptons, James Hill and Reynold's Landing. There is something for everyone here, from townhomes to million-dollar mansions.
Chalybe and Abbeyglen offer families homes similar to garden homes with smaller lots yet plenty of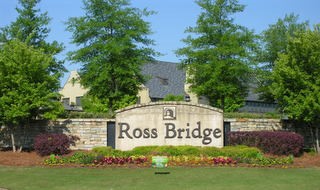 living space. On the opposite side of the spectrum are homes in Glasscott that are built on much larger lots sizes and run upwards of $800,000. These homes are some of the most recently built homes in Ross Bridge.
A very unique, first-of-its-kind community in Alabama, is Reynold's Landing. This community was built in conjunction with Alabama Power as a "smart community" The homes, built by Signature Homes, contain energy-efficient construction features, including thicker walls with more insulation, triple-pane windows and a radiant barrier roof that reflects radiant heat instead of absorbing it, reducing cooling costs.
The houses in Reynolds Landing are equipped with "smart home" technology that allows homeowners to control multiple features while away from home, including locks on the house, garage doors, a security system with cameras, lights, refrigerator interior cameras, the air conditioning and heating system and the stove. The HD camera security system includes infrared night vision and wide-angle lenses, and each house has voice-controlled Amazon Echo Dot technology that allows users to control locks, lights and more with voice commands, according to marketing literature. A Google mesh Wi-Fi system allows for a strong internet connection in every room. Houses in Reynolds Landing also are equipped with the latest Samsung appliances, such as a refrigerator that allows people to control the temperature in specific compartments with the push of a button; a microwave with a grilling element that allows food to be toasted, crisped and browned; a clothes washer that washes a full load within 36 minutes; and a dryer that steams wrinkles, detects problems and reminds the user about vent cleanings.
Homes in Haddon all have basements while homes in The Hamptons and Bellevue are built on slabs. Whatever your family needs and preference, there is something for you in Ross Bridge.